30% on everything with code BLACKWEEK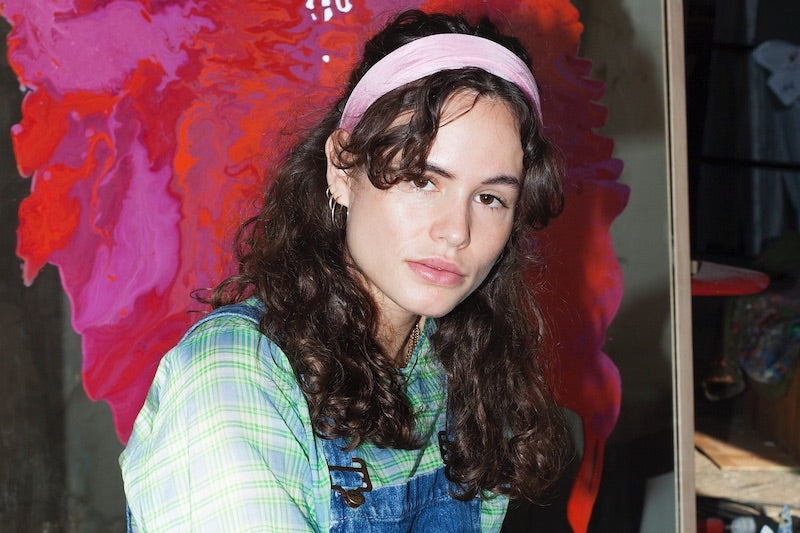 Simone Noa Hedal on Mirrors and Art
Are you afraid of colors? Simone Noa Hedal certainly isn't. Next to her favorite shade pink (which we really feel just the same about), she uses amazing combinations that make her signature mirror paintings perfect pieces for your home. Mirrors, you might say? Yes. Because mirrors are the new canvases and colors are the new Scandi chic black.
Since Simone was a little girl, she had the urge to express herself through different platforms: Ceramics, drawings, paintings - you name it. Over time the pursuit of her hobby and curiosity definitely paid off, as she is now one of the new faces on the Danish art scene that you hear about.
In our conversation with Simone, she sheds light on the contemporary selfie-culture and uncovers how a day in her atelier looks like. Get ready to dig into the colorful world of Simone Noa Hedal!
Could you tell our readers a little bit about yourself and what you do? How can we imagine your everyday?
My name is Simone, I'm 25 years old and you can find me at my Instagram account @simonenoa. I live in a lovely apartment in Vesterbro with my lovely boyfriend. Hold on to your knickers because now I'll tell you a little bit about how my day goes. I have a very busy schedule, since I started my fulltime job within the fashion and PR industry, and during my spare time I like to paint. I try to take good care of my friendships, so I like to spend a lot of time hanging out with my friends.
Furthermore, I like to stay in shape and to keep my body healthy by attending boxing classes a few times a week. So, as you can see, I have a pretty busy schedule during the week. I'm one of those types that wishes there were more hours in a day.
What was the journey that led you to where you are today? 
At a certain point in my life, I realized that I wanted to come closer to a field where I could express my creativity. I've always been interested in interacting with people, digging into human behavior and communicating messages to certain target groups.
This is why I chose to study a Master's Degree in Communication. In this field I have the opportunity to communicate messages, meet a lot of different people and most importantly - unfold my creative skills. Being able to communicate my feelings through art is also what drives me to be an artist.
Since I was just a child, I've always had an interest in unfolding my creativity. No matter if it was drawing, painting, making ceramics or anything else that could help me express my feelings, I would do it.
I've also been influenced by my grandmother. She is a very creative spirit, especially when it comes to painting, sowing, crochet and knitting. She has had several exhibitions, where her paintings have been on display.
How does your education within communications intertwine with your artistic work? 
When I make my art on for example mirrors, my thoughts have been to create art that makes the viewer want to study the piece of art in depth. To use mirrors and media that give a three-dimensional effect is totally different from the classic way of painting on a canvas.
I make a great deal out of inviting the viewer to interact with the art. By building a community around this type of art, you get people to interact and share, which is something I brought with me from studying communication.
"I love to be experimental in the way I dress and the way
I paint. I want colors with a bang."
What does art mean to you and how would you describe your style?
It means a lot to me to be creative. It's my way of relaxing, communicating feelings and taking time offline. Another way of saying it would be "therapy for body and mind".
When it comes to describing my art, I would definitely describe it as experimental, colorful and dominated by the color pink. It's for sure not possible to be afraid of colors if you would like to have one of my paintings hanging on the wall.
Where do you seek inspiration for your work? 
Everywhere! I get inspired by clothing, architecture, building materials etc. I also get inspired by a walk in the streets of Copenhagen, by colors and people in my life.
"We live in a selfie-culture where art needs to be shareable. This is also why I think more artists are engaging with mirrors as 'canvases'."

How do you think art and fashion connect?
Both art and fashion are a subjective way of seeing things. I love to be experimental in the way I dress and the way I paint. I want colors with a bang. That's how I view the comparison of these two art forms. As much as a painting is an artwork, I believe that a bag or a jacket can be an artwork as well.
Fashion designers put as much of an effort in designing a certain style as a painter does. I'm convinced that both industries find inspiration in each other's work because they have much in common.
As much as a painting can communicate a political statement, designers can do the same as well, for example in the making of unisex clothing or by seeking inspiration from different cultures and societies.
Can you describe the process you go through when creating a piece of art? What is of importance for you during that process?
First and foremost, I work best alone, with music that makes me feel relaxed. This could be jazz or classic music. I have hard time concentrating when other people are in the same room. I need solitude in my work of creating art, I like to shut myself in my own creative bubble.
A typical day at my atelier would be to look at the empty "canvas", choose color combinations, get started, edit, re-paint, be frustrated, take a break, go back, edit some more and paint some more.
Time flies when you do something you love, which is why I often use a whole day working on the process of creating every single piece. Some of them take a day and others take several weeks.
My work also depends on natural lightning. You get the best feeling of colors and interaction when natural light is present.
Simone Noa Hedal in front of her signature pieces: Painted mirrors

Which contemporary trends within the world of arts do you like?
I think it's inspiring to see how the art reflects the society of today. Viewers have become more integrated in art than seen before, I would think. Just like it requires more effort to convince consumers to buy products these days, it also requires a bigger effort to make the viewer feel the art.
This form of art is not only about seeing a part of yourself through the painting, but also to see yourself literally. We live in a selfie-culture where art needs to be shareable. This is also why I think more artists are engaging with mirrors as "canvases".
Our generation and cultures are driven by ego, that's why I think a lot of upcoming artists try to portray these trends. This is among the trends I find inspiring.
I also have a lot of respect for artists that are able to communicate political messages through their artwork. The art becomes a strong statement which is very inspiring.
Imagine that absolutely anything is possible. What is your wildest and biggest dream regarding your creative work?
I already think that it's overwhelming and a big dream coming true that people want to have my art in their homes. But another big dream is to show my pieces at an exhibition someday.
A typical day at my atelier would be to look at the empty "canvas", choose color combinations, get started, edit, re-paint, be frustrated, take a break, go back, edit some more and paint some more.
How do you see your artistic journey evolving in the direction of this dream in the next couple of years?

It's a very hard question. I have a lot of dreams and goals in life that I hope to realize in the future. I'm open minded when it comes to upcoming projects and opportunities in the future, but at the moment I don't have a time frame. I'm in no rush. I'll just sit back and enjoy my journey into the unknown.
Regarding my art, I'm still planning to work with the same materials, but I'll not exclude possibilities of exploring new mediums in my art work.
Are you working on any exciting projects at the moment that you can reveal to our readers?
I haven't been that productive in making my art recently, since I'm very busy, so unfortunately, I haven't been able to find the time right now. But I do have new art pieces in the making. You can always follow my work on Instagram if you would like to know more.
If you could give one advice to our readers on how to pursue creativity in their day to day life, what would it be?
Just do it, as Nike would say! It's very underestimated. I would take it that even further to say that it's equally important as meditation. Furthermore, it's a nice way of spending your time offline.
We love your style which you show glimpses of on your Instagram account. What are your favorite Scandi brands?
Among my favourite Scandi brands are: Stine Goya, Saks Potts and Acne Studios.
We are always searching for more inspiration. Which five Instagram accounts would you recommend for us to follow?
I think that you should take a look at these accounts:
Thank you very much for the interview, Simone!
➸ Head over to Simone's Instagram account to learn more about her and her work
You might also like our story about photographer Joséphine Löchen, or meet the creative minds behind the Copenhagen-based carpet studio Röd Studio.
Interview by Mermaid Stories
Photos: Courtesy of Simone Noa Hedal